There is a concrete reason why I will ask my Democratic colleagues next week to support Mary Waters for Congress to knock off Y'all's Boy Carolyn Cheeks Kilpatrick.
Integrity and accountability.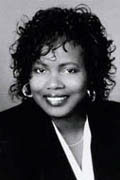 I was at the candidate forum at Perfecting Church this past Monday. I thought my longtime friend Richard Mack did an extraordinary job in planning and organizing this effort. I was not there for the Congressional debates but I was there for the candidate forum. However, I decided to stay for the Congressional debates.
To tell you the truth I am not impressed with none of the Congressional candidates. However, there are some things that I feel Mary Waters would be willing to compromise with.
For example, I would like to hear Mary's plan on mass transit. She was right to point out to Congresswoman Kilpatrick that we need more than a downtown bus station and new buses to think that she is doing something. If I was Mary Waters I would use my plan to create a Michigan High Speed Authority to discuss building regional high speed rail across Southeastern Michigan and eventually linking the Upper Peninsula to Southeastern Michigan.
In terms of education I was looking for Mary Waters to attack the Congresswoman by reminding people in the audience that the lack of educational values in our classrooms is due by the constant erosion of two parent families in our community and how she would be a promoter of traditional family values once elected to Congress. Born in Alabama with core values is an asset that we desperately need in Congress. Instead of more money going into the public schools let's try a forensic audit on where money is already going in the public schools first. Public schools must show accountability and integrity on their part of they want to continue receiving Title I money from the U.S. Department of Education.
I was not too interested in Mary attacking the Congresswoman on integrity because we know Kilpatrick lacks integrity. Anyone who gets on TV and tells someone to "
carry her bra
" has just shown why that person does not deserve to go back to Washington D.C.
Many people have written off Mary Waters because she is not a State Senator like Martha G. Scott or a Congresswoman Carolyn Cheeks Kilaptrick. The latter women have over 30 plus years of legislative experience. This is why I am urging people to support Mary Waters for Congress.
Carolyn is 63 years old. Martha Scott is 72 years old. If Martha is elected then we will have two dinosaurs in Congress representing Detroit (Scott and Conyers). Mary is 52 years old. She still has some mileage.
So much is at stake. We must bring truth and transparency to Washington. We must reclaim our communities now--by strengthening the middle class that has been so weakened and by restoring accountability to government. We must fix our health care system, protect good jobs and retirement, regain the respect of the international community, and work together with other nations to protect the environment, and achieve energy independence. In Congress, Mary will always have the voices of the people of 13th District in her mind and will fight to change what is going on in Washington.
Those who have worked with Mary and those whom she has represented as a state representative always knew that they could count on her to take the toughest of stands, to tell the truth, and to bring about change. She will always listen carefully to the voices of the 13th District, speak her mind, and not go home until the work is done.
Mary is limited in terms of her scope on the ins and outs of Washington D.C. and that is where Carolyn Kilpatrick has an advantage over her and Martha Scott. In fact, Kilpatrick did a good job in keeping her pose on Monday night. However, after going home to meditate on what transpired I think we can help Mary Waters more so than Carolyn Kilpatrick or someone who is stuck in her ways like Martha Scott. We can start by telling her that she was a sharecropper NOT just someone who pick cotton (she says this in her opening statement).
We know Carolyn is getting weaker. She brought in Nanci Pelosi to speak on her behalf. But only 125 people showed up to see the first female Speaker of the House of Representatives. Not good at all.
Many people think Mary is running on fumes. They said the same thing about John McCain and look at where he's at. Mary can do the same for the next several days leading up to August 5.
Yes, many tell me that Mary did not do well against Carolyn Kilpatrick on Monday. Are we looking at substance or quality? I am looking for quality in a candidate who has room to be groomed, molded and shaped. I can see that in Mary. I hardly agree with her positions but one thing she has shared with me is she is a woman of integrity. No she is not like Monica Conyers, who is an embarrassment to Detroit. She is herself.
There is no place in more critical need of change than Detroit's 13th district: rampant crime and unemployment; exploding gang wars; substandard healthcare; escalating drug abuse and booming drug economies; woefully under-funded schools. Residents of the 13th district have yet to reap the benefits that 30 years of economic development has brought to other parts the country. An unshakable sense of hopelessness runs through much of the district. Parts of the district look more like a third world country than a section of the nation's wealthiest city. If a change was supposed to come, it hasn't happened yet.
Mary Waters has the vision and drive necessary to actually bring change to his district. She has already demonstrated a commitment to social justice and anti-violence education. She is a respected and influential member of her community, and a trusted friend and mentor to countless 13th District residents.
It is time for new leadership, a new generation, to push us forward, and we should want to be a part of that wave of fresh ideas, of new visions, for these times, for the 21st century. Let's send Carolyn Cheeks Kilpatrick home and send
Mary Waters to Congress.