Today, I am officially endorsing Senator John McCain for President. I thank him for picking this woman for being his pick for Vice President.
Gov. Sarah Palin of Alaska. Once again, when McCain's campaign was on fumes he once again rose from the ashes.
It was perfect timing to pick Gov. Palin. After all, Sen. Barack Obama just accepted his historical nomination from a party that has a history of government handouts and slavery. Ok, he just become the first Black person nominated to a major political party. I will give Obama all the credit, he scared the living hell out of most Republicans (including me) and had our party on the ropes. In fact, I was not even going to support McCain or Obama and vote third party. I thought when I saw his speech in Denver and the way he was successfully painting McCain like a Bush clone I knew the party was going to flow right into November.
But the Obama party is over. Sarah Palin took the steam right out of Obama's glory and now the Democrats are wondering what in the hell is next from this "old man."
While die hard Obama-ites are trying to figure out why would McCain pick a fine woman like Palin to run as his running mate some feel that it was a nasty move on McCain because Hillary Clinton was not picked to be Obama's VP. The Obama camp should be scared to death because those same Hillary supporters are getting ready to move over to the McCain camp thanks to Gov. Palin.
Here is two major reasons why McCain will win in November. (1) The energy debate. The liberal media has done a great job of trying to paint McCain as some clone to Bush. I found this graph from OnTheIssues.org to see who is really a clone.
President Bush: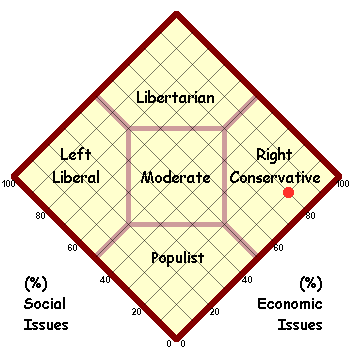 George W. Bush is a Hard-Core Conservative.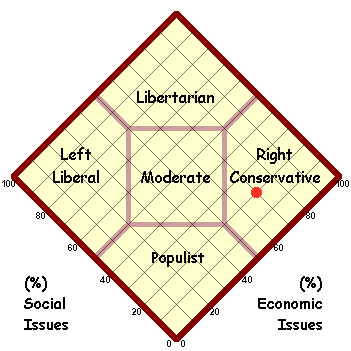 John McCain is a Populist-Leaning Conservative.

Big difference between the two. And if you look at Gov. Sarah Palin's graph: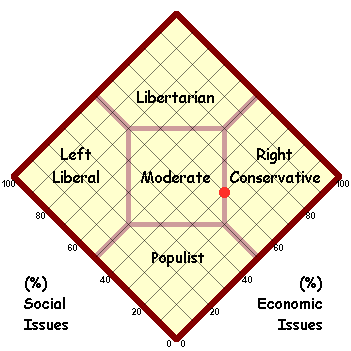 Sarah Palin is a Moderate Populist Conservative. This means she has massive crossover appeal to pro-lifers as well as 2nd Amendment people.

If you look at Obama's graph: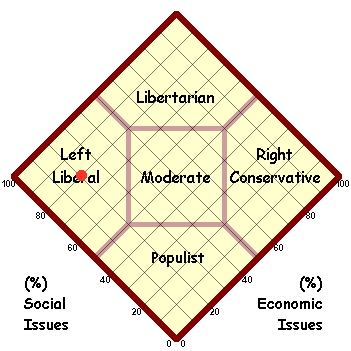 Barack Obama is a Hard-Core Liberal. Hard core liberals run Detroit and look at our city. Do you want our beloved country, the United State of America, become the United States of Detroit or the United States of Chicago?

As for his running mate Sen. Joe Biden of Delaware?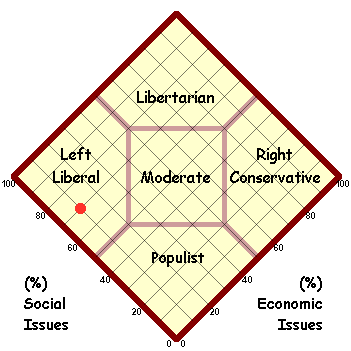 Joe Biden is a Populist-Leaning Liberal. Even though Biden has done a lot for the State of Delaware maybe he should be the candidate running for President and Obama as VP.


The other thing that is great about the McCain/Palin ticket is our young adults in the conservative wing have been reactivated to campaign on behalf of Sarah Palin and John McCain. Palin is 44 years old and have 5 children. Her youngest son has Down Syndrome. Most liberals would have pressured her to get an abortion. Thank GOD she did not follow that route. Instead of making excuses she gave her child life. She really believes that it takes a village to raise a child. On top of that, she returned to office three days after having her child prematurely.
I try to explain to Black people that liberal policies have created a serious problem in our community. I never see Planned Parenthood clinics in mass numbers the way I see in the Black community. If we could take a page from Gov. Palin to encourage our young women in our community to have their children regardless of the most bleak obstacles that may stand in the way we would be able to open the doors of life to a community that is already dead.
Her son, Track, is in the U.S. Army and will be deployed on September 11, 2008 to serve his country.
Here in Michigan we should be excited because women will have the opportunity to vote for a conservative female candidate on a major ticket for the first time that shares our values. Of course the Republican Party, a party that has many problems but a party that I am proud to be a part of, are always leading the way for leadership. Just like President Bush tapped Dr. Condoleeza Rice as the first African American U.S. Secretary of State Sen. McCain has tapped Gov. Palin as our nation's first female Vice President. I can clearly see Palin running the show in terms of reducing our gas prices because she will be the one to break this grid lock on the energy debate in Washington D.C.
While Obama is lying to people about drilling for oil Palin is the chief point person on the McCain ticket to talk about how the average American is paying far too much for gasoline. She has already stressed to Congress that we need to drill for oil in her homestate of Alaska. Other countries that drill for oil such as Nigeria and Venezuela are paying less than a $1.00 per gallon for gas because they drill for their own oil.
Obama wants to invest in clean coal technology. COAL????? You have got to be joking. Are we living in the 19th century? He would have gotten some points from me if he was talking about fuel cell or hydrogen technology. And even his own liberal base dislikes clean coal or nuclear technology. Well, while he was on stage accepting his nomination from the Democratic Party he shot himself in the foot several times. Attacking McCain the way he did was not necessary and now he has officially jeopardized his chances of being President of the United States thanks to Sarah Palin.
And while Gov. Palin represents class, integrity and accountability maybe Gov. Granholm can learn something about business of running a state the proper way. Alaska is an actual tourist destination. How many people have you heard outside of Michigan said they were going to vacation in Michigan?
And when we pull up the Rassmussen's Governor Approval ratings we find that Gov. Palin has a 35% excellent approval rating compared to Gov. Granholm's 11%. Only 14% find Palin as a poor choice for Governor in Alaska compared to Granholm's 42% here in Michigan.
And while people like Emma Bell in Detroit is going around talking about how she started the Uncommitted Vote what is going to happen to the women in Detroit who feels betrayed by the Obama camp? For all we know, Hillary might be telling some of her own delegates to vote for Palin in November. Women just want to see a WOMAN in the WHITE HOUSE. PERIOD.
If I was working for the McCain camp in Michigan here is what I would do TODAY.
1. Get Gov. Sarah Palin to do a press conference right here in the heart of Detroit. Let Sen. McCain go to Oakland County. I think Gov. Palin can reach our youth, undecided voters and seniors with her love and compassion. If she come to Berrien County where I am at it's a serious wrap.
In fact, she can visit our

high school.
2. Where are the
MEN for PALIN
at? Oakland County sponsored the Women for Obama when Michelle Obama showed up in Baby Chicago (I mean Pontiac) for a discussion. We need the MEN for PALIN to have her discuss OUR issues in the inner city or nearby.
3. It's time for a Victory Center to be set up in Detroit. It's nice to have a Victory Center in areas where your car is not going to be stolen but those days are long gone. White people cannot sit and be in their comfort zone anymore and talk about the War on Terrorism. There is a war right here in Detroit and you are needed.
4. While Obama will be having a rally after the Labor Day Parade in Downtown Detroit Sarah Palin should be ready to excite our young adult base NOT JUST in Grand Rapids but here in Southeast Michigan AFTER WORK not one of them 11AM hookups at Oakland University while all of us are at work.
5. If our sister Sarah Palin gives a killer speech at next week's RNC convention Obama is finished.
The death of the Obama campaign would come if Sarah Palin came into places like Flint, Detroit and Pontiac and spoke with the average joe on the street. Hell, if she hunts for a moose then I know she can hunt for a few votes in the hood. If she is caught on camera doing that in a urban setting then Obama can hang it up.
The RNC cannot blow this. The Michigan Republicans CANNOT blow this. God just sent us an angel. If you want to defeat Homosexual billionaire John Stryker in November we just had our prayers answered. This time Stryker cannot throw $2 million dollars against our conservative candidates. Young Republicans should be ready to take back Lansing in November and we will not lose Oakland County, regardless of the demographic shifts, to a Democratic party that will make Southfield look like Detroit in less than 5 years.
Thanks to Gov. Palin, her position on energy NOT foreign policy is the drive we need here in the United States. People now feel comfortable endorsing McCain for President.
Hey, for the record I am not against a Black President of the United States. I just feel that Obama is NOT the one for our country. Just like the Republican Party has trail blazed in leadership since its inception in 1854 when the time comes for a Black President it will be a Republican not a Democrat.
Furthermore, I am a strong supporter of women in politics. With Gov. Palin on the ticket at 44 years old it gives our young women direction, hope and a serious drive to excel in what is deemed as a man's game (politics). She is following in the footsteps of great female conservatives such as Condoleeza Rice and Sojourner Truth.
I urge you to join my lead, if you have not already, endorse and fully support John McCain for President and support our sister Gov. Sarah Palin for Vice President. This is the real change we need in Washington D.C. not that fluff Obama is talking about. Black liberals are right when they told me I should not sit this one out. I'm not and this is the reason why I am supporting McCain-Palin for the White House. I want a President that is not scared to run America and a Vice President who really cares about the American people.
November election will end up like this. McCain 59% Obama 41%. It is NOT going to be close like the media keeps reporting.